Commission FREE Online and Facebook Ordering Platform For Restaurants
Unlimited orders. Zero commission.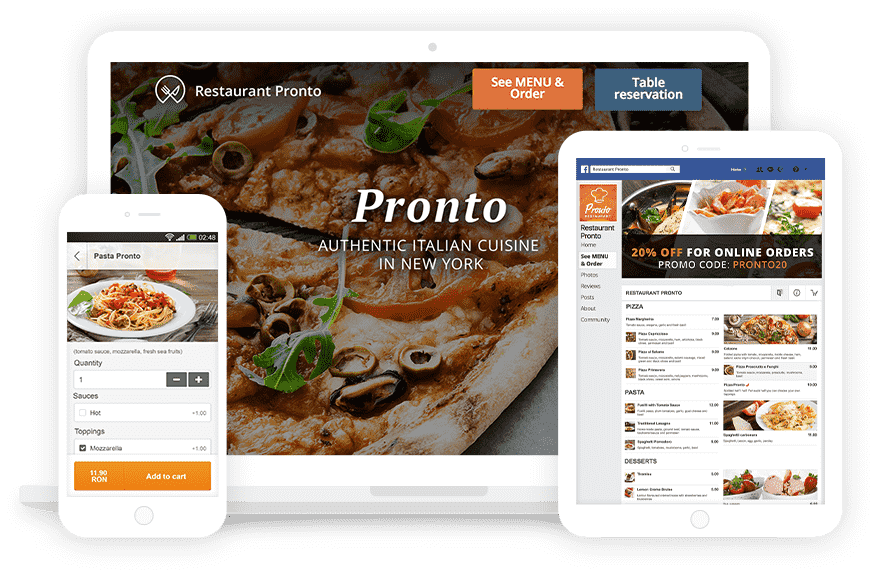 WHAT YOU GET WITH CLOUDMENU
ONLINE ORDERING
Give hungry customers the ability to order directly from your restaurant's website, Facebook, and Google pages.
FACEBOOK ORDERING
Turn social visits into transactions with Cloudmenu ordering on your Facebook page.
TABLE RESERVATIONS
You can even allow food ordering in advance and have the dishes ready at your clients' arrival. Happy customers, faster table turnover.
Mobile Ordering
We build a mobile responsive version of your online ordering website, so you can reach more customers.
MARKETING SERVICES
Partner with a dedicated success manager to develop strategies that will drive more online and mobile orders.
DEDICATED SUPPORT
Reach Support any day of the week, our team is on call and proactively monitoring orders as they come in.
MANAGEMENT TOOLS
Accept orders and set ready times through your Tablet. Use your Dashboard to update your menu on the fly.
CUSTOMER INSIGHTS
Get to know your customer better with analytics report.You can easily monitor and track the order report to perform better.
LEARN HOW CLOUDMENU CAN HELP YOUR RESTAURANT
Receive orders & table reservations directly on your smartphone or tablet
Receive instant push notifications on your Android or iOS device every time your customers place an order or book a table.